Will your Health Care Power of Attorney be available in an emergency?  Will the doctors know how to reach your named Patient Advocate? At Doyle Law PC, we want the answer to both of these questions to be "Yes". That is why we provide this information on the DocuBank® service, and give our clients the opportunity to enroll through us at a substantial savings.
---
The DocuBank® Emergency Card makes your Health Care Power of Attorney immediately accessible 24/7. Hospital staff can obtain your documents via fax, or print them from the DocuBank website. The hospital will also have the names and phone numbers of your emergency contacts and physician. The card also lists allergies and medical conditions to help doctors provide you with the best treatment.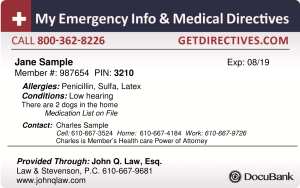 ---
---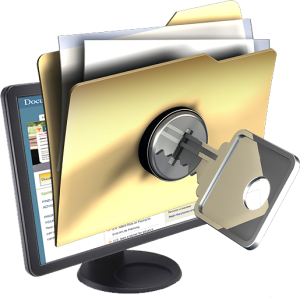 At no additional charge, your DocuBank® membership includes an optional DocuBank® SAFE. Your SAFE provides secure, cloud-based storage for your estate planning, financial, and personal documents. Your DocuBank® membership includes 2 GB of space – more than enough for your important documents and files.
To ensure the security of your documents, SAFE features:
2-tier login protocol
Secure SSL connections
All of your files are encrypted
With your SAFE, you will have the option of appointing a Digital Executor who will have access to your documents when you die or become permanently incapacitated. Through the SAFEShare feature, you can also give family members private access to selected files in your SAFE.
---
Doyle Law PC clients can download enrollment package HERE
---
Doyle Law PC clients can click HERE to login their DocuBank® account
---
NOTICE: INFORMATION ON THIS PAGE ABOUT DOCUBANK AND ITS SERVICES IS PROVIDED BY DOCUBANK AND IS INCLUDED ON THIS PAGE FOR INFORMATIONAL PURPOSES ONLY. DOCUBANK IS NOT A SERVICE OF DOYLE LAW PC, AND NO WARRANTIES, REPRESENTATIONS OR ENDORSEMENTS ARE MADE BY DOYLE LAW PC ABOUT DOCUBANK OR ANY OF ITS SERVICES.